Arkham Asylum, West Isolation Ward
As much as the Riddler's plans have called for chaos all across Gotham, it's plain to see that there are other inmates that he decided would have to play their parts while still under Arkham Asylum's thumb; wanton serial killer Victor Zsasz seems like a fair choice to leave locked up.
Other remorseless killers have gone free tonight, but you consider what they have that Zsasz doesn't. A penchant for theatrics? Bouts of agreeability? Motivations beyond killing? Any or all of those possible explanations would suffice. Death for death's sake is no puzzle to outwit.
After loading Zsasz to the gills with sedatives from a time-release bracelet and poking him with a stick, all while still leaving his manacles on, the orderlies retrieve this note from his cell.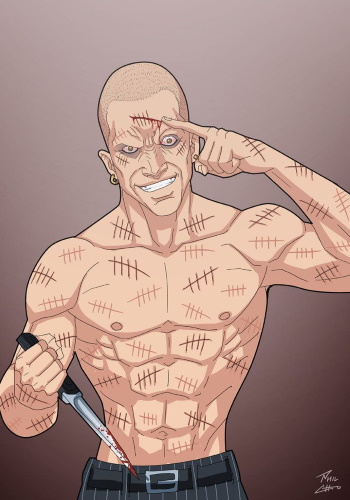 All That Zsasz
I let Victor here slice a word off the front of some down clues, mutilate several across answers, and even cut one clue totally out of the puzzle! Couldn't plan it better myself... oh wait, I did!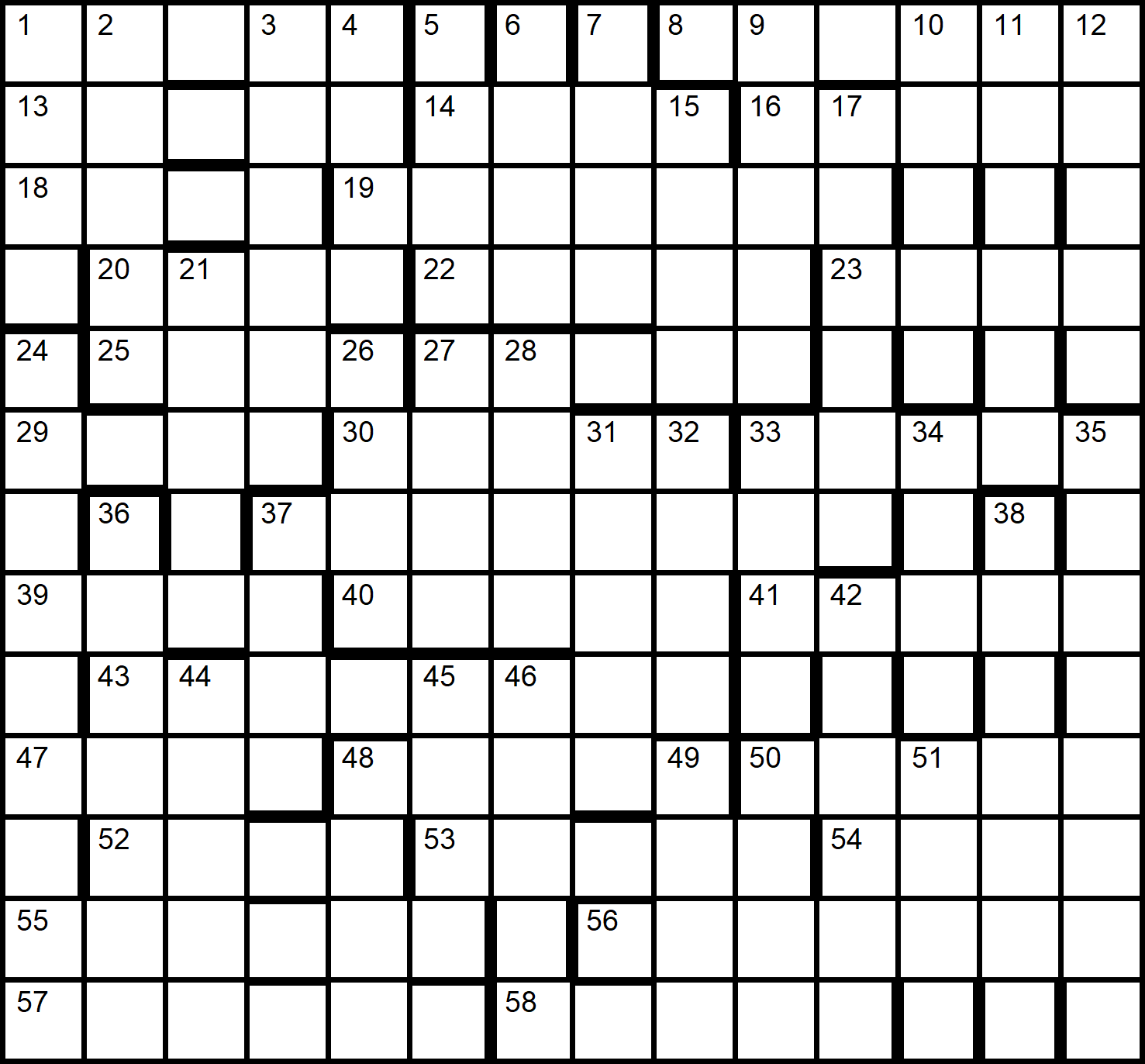 Across
1. Yay! Wow! Maid finally cleaned the windows
8. Strange, odd blue boy... he looks like someone else
13. Swear as ball goes off fairway
14. Even old ideas are myths
16. He leaves, marches back to get out of there
18. Targets, decapitates, injures
19. Broken tibia? I'll fly with imperfection
20. Brag of being wide, not small
22. Greek god returns with no sound at night
23. Diner's wine server forsakes god
25. Throw up at gym in southwest
27. One's successor after two's leader
29. Listen to, study clarinet piece
30. A massage on a tropical island
33. Unite around one to hold power
39. Sign-off from spies' ring
40. Terminal tyrant sacrifices head of state
41. Ultimate weight loss from zinc and iron rations
43. Strange lichen or salt ingredient
47. You once subtracted three from three
48. Hot place is cool place, front to back
50. Kapow! Excellent criticism
52. Miss Montana, at heart, is a girl
53. Soft drink brand changes penultimate yearly celebration?
54. Love in Spanish/Italian city returned
55. With deep respect, let inside party before end of day
56. Piece-of-s*** former attorney general's effects
57. All mixed up in some unfinished downhill descent
58. Swimmer's firsts: one, two, three... um...

Down
1. Lost love creating lasting impression
2. Gives up lulls without Molly
3. Is served and passed out
4. Skilled agent rises to top
5. Unfortunately, tossed salad lacks bit of dressing
6. Family gets large oven
7. Pose in strange positions for money
9. It blooms from catastrophe after ignoring insult
10. Decapitated holy man buried under bishop's bush
11. Ultimate neutral evil alignment
12. Burns three up front for a little heat
15. Alternative roll of part of the eye
17. Why 51 into 300 is repeating
21. Piece of music from sample of Calliope Radio
24. Stickers of bent Tigers cap
26. Center of power and magical conduit
27. Water large green glens' hearts for plant life
28. Idiot blows $100... f***
31. Frontiersman is a blessing, reportedly
32. Put up kind of poster with no margins
33. Weakling's unfinished task takes in grand
34. Fire up program's final test
35. Perseids break apart, spread out
36. Formally is angry malice, full of wrath at last
37. Sauce spot on one's face
38. Some collecting vehicle payment
42. Gets drunk, drops hard bit of pastry
44. Chicken with sodium coloring on skin
45. Naughty Dick's not bearing a cross
46. Shook oddly to form state
48. Hear as loud ovation starts to ring
49. Loads up biological contents of rocket?
50. Piece of information at ends of text file
51. Morning doughnut with special cereal nuts