Gotham Stock Exchange
Calculator being involved in Gotham crime or chaos is about as routine as it gets, but something going down with his name on it is exceedingly rare. Usually, he prefers to remain happily behind the scenes as a general crime facilitator, getting fat on finder's fees and limited personal risk.
Unfortunately for the traders on the floor, he's decided to take this opportunity to advertise his services by locking everyone else out, collecting commissions, and dumping the portfolio of anybody who defies him exclusively into NFTs. Funny or not, it's probably best to prevent that.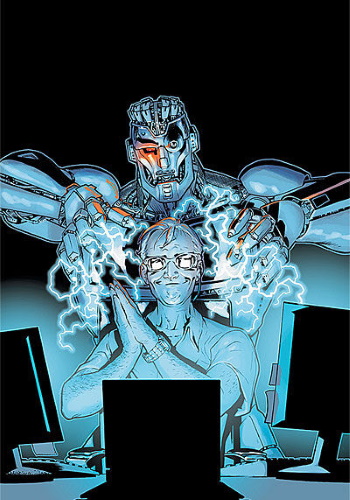 Run the Numbers
Obscure equation? It's simple! Keep it simple, stupid!
| | | |
| --- | --- | --- |
| 1, 2, 9, 54, 378... | / | Android That Falls in Love with Krillin |
| 1, 5, 5, 9, 6, 1... | / | Student Loan Interest Statement Form |
| 1, 2, 3, 2, 6, 2... | / | Lockheed Blackbird Stealth Plane |
| 0, 0, 1, 2, 8, 22... | / | Face of a Round White Kuvan Pill |
| 0, 0, 1, 6, 2, 3... | / | Class-B KIPA, or Maybe Class-D WILB |
| 3, 1, 4, 1, 3, 8... | / | Let Him Who Has Understanding Reckon |
| 26, 1, 2, 1, 1, 2... | / | First of Two Questions in a Chicago Song |
| 1, 2, 6, 28, 220... | / | Steamfitters Union of Capitol Heights |
| 3, 8, 39, 220, 1275... | / | My Beginning... and My Probable End |
| 0, 1, 0, 3, 3, 0, 27... | / | Source or Destination Resource Locked |
| 1, 0, 4, 12, 144... | / | Latin Capital Letter V with Hook |
| 2, 13, 6, 11, 10... | / | Romantic Comedy Movie with Bo Derek |
| 2, 1, 2, 2, 6, 6... | / | Flaming Chickens Robotics Team |
| 1, 2, 154... | / | Cushing Green Historic Color Paint |